Brandi (Andersen) and Patrick VerSteeg met during Opening Week in 2006.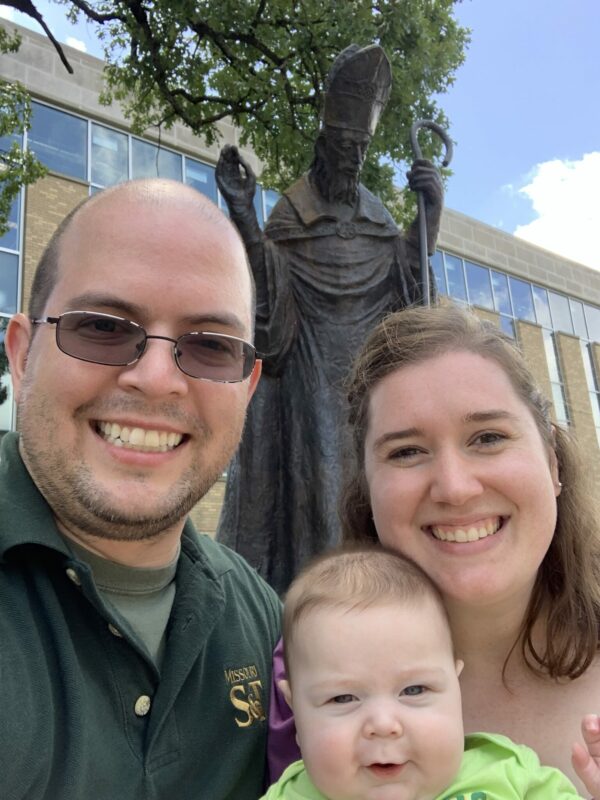 "My roommate and I knew Patrick's roommate from Jackling Engineering Camp the summer before," she says. "The four of us would hang out together. Patrick and I became great friends who fell in love. We dated through college. We got jobs in different parts of the country, so our relationship was long distance for a time after graduation. When we had jobs in the same place, Patrick proposed where we first met in Rolla."
As students, the couple took advantage of the free or reduced price student tickets to Leach Theatre.
"We would get dressed up like we were going to see a show in a big city," she says. "Then we'd grab dinner or a drink afterwards – a great date night!"
Both Brandi and Patrick graduated with bachelor's degrees in chemical engineering in 2011.
"We have a future Miner who we introduced to St Patrick and campus in 2019," she says.
Today Brandi works for Afton Chemical as a senior process engineer and Patrick works for Mallinckrodt as a senior process engineer.
Their relationship advice?
Share your story! Fill out the form below to share your fondest memory or anecdote of S&T. If you'd prefer not typing, you can also share by phone at 833-646-3715 (833-Miner150).
Jordan (Lynn) and Derek Voges
Jordan (Lynn) and Derek Voges
Jordan Lynn and Derek Voges met at a Sigma Phi Epsilon fraternity party at the end of August in 2015….