Janet Kavandi, who earned a master's degree in chemistry in 1982, discusses the importance of professors' interest in student success at UMR.
Audio transcript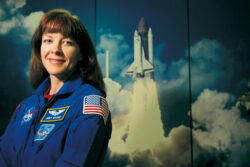 I started in the spring of '81. It was not the size at that time. But a very nice, small . . . it was just a small campus because Missouri Southern was small. And I liked the personal interaction that the students could have with faculty. And I found the same thing here. And Dr. James Stoffer became my advisor and he, of course, is a very wonderful man and is very interested in the success of his students and so, it was very easy to converse with him, which was the same kind of experience I had in my previous undergrad education. So I really liked that aspect of this school. I think that's why I like the smaller university. Both of my children actually are back at smaller universities as well, because they like the same connection. If you have the ability to face-to-face ask your professor a question, whether it be about homework that you don't understand or your future career or your research topic; being able to do that in person rather than possibly through an RA or a TA really adds a lot. Because some of the universities, larger universities, while they are very prestigious, and you know the University of Washington was one of the very large ones, it's . . . you just . . . I think, have an advantage with that personal connection. And there is a bond there, I think, that grows between the professor and the student. Especially if the professors really have a true deep commitment to ensuring that their students do well. Then you can maintain that lifelong relationship.
Share your story! Fill out the form below to share your fondest memory or anecdote of S&T. If you'd prefer not typing, you can also share by phone at 833-646-3715 (833-Miner150).
Kaitlyn Loucks and Jacob Bellomy
Kaitlyn Loucks and Jacob Bellomy
Kaitlyn Loucks and Jacob Bellomy met each other at a fraternity party while she was home from co-op one weekend…