John T. Park, who served as interim chancellor in 1985-1986 and in 1991-1992, notes the major accomplishments during his time as chancellor between 1992 and 2000.
Audio transcript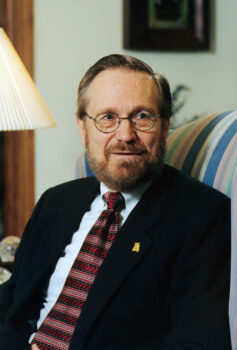 The things that probably made the most difference in the university in the long run, were getting that whole process of getting a capital campaign, a successful capital campaign. But it isn't just the fact that we formed a Board of Trustees, we changed the attitude of . . . toward this sort of thing. That may in the long run make more difference in the university than anything we did. If you look at what you want the university to become, I feel that this . . . the Missouri Quality Award effort made a step toward convincing us that we were better. You know, that we . . . there is a tendency for us to be . . . to look at ourselves, when I first came here, as kind of a school of Mizzou that got freed in some way. You know, that was kind of our role in life. And, you know, now we are making real progress.
Share your story! Fill out the form below to share your fondest memory or anecdote of S&T. If you'd prefer not typing, you can also share by phone at 833-646-3715 (833-Miner150).