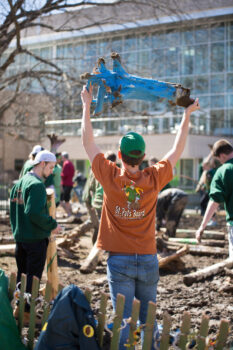 Since George Menefee first donned a bishop's hat and robe and rode a rail handcar into Rolla on March 17, 1908, St. Pat's has been the single tradition most identified with Missouri S&T. The annual celebration occurs every March during the week of St. Patrick's Day, who students of Menefee's time dubbed the Patron Saint of Engineers. It is preceded by a "snake invasion" during which students destroy rubber snakes to prepare the way for St. Pat – and symbolize the patron's legendary driving snakes out of Ireland. St. Pat's Week involves all manner of games, pageantry, revelry, the selection of a St. Pat and court, a knighting and coronation ceremony, and, most recently, a day of community service. It culminates on Saturday with a morning parade down green-painted Pine Street and an afternoon concert.
S&T has held a St. Pat's Celebration every March since Menefee's era, with the exception of a few years during World War II. The St. Pat's tradition began in 1906 at the University of Missouri-Columbia campus, but given the greater concentration of engineering students in Rolla year after year, the S&T event quickly eclipsed the original celebration at Mizzou and has grown to be the "best ever," year after year.
Share your story! Fill out the form below to share your fondest memory or anecdote of S&T. If you'd prefer not typing, you can also share by phone at 833-646-3715 (833-Miner150).
Leading Peru's higher education
Leading Peru's higher education
After earning a bachelor's degree in civil engineering from S&T in 1980, Mariana Rodriguez returned to her native Peru to…