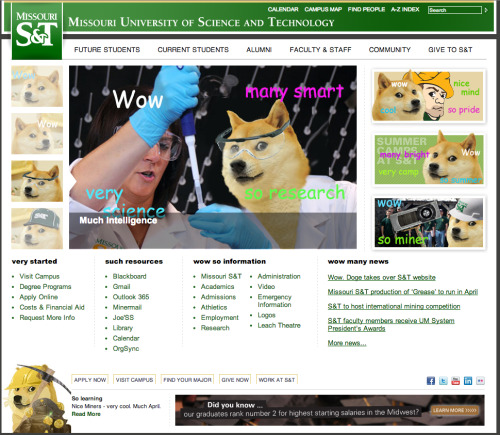 We don't always pull pranks on April Fool's Day. But when we do, we win. So proclaimed WIRED on their Tumblr when they got word of our April 1, 2014, redo of our main website. On that day, the images on the home page were doctored by images of an internet-famous shiba inu dog — named "Doge" by cyber-memers — and accompanied by Doge-speak, a type of pidgin English that accompanies the Doge meme. Amaze.
Share your story! Fill out the form below to share your fondest memory or anecdote of S&T. If you'd prefer not typing, you can also share by phone at 833-646-3715 (833-Miner150).
Clued in on Jeopardy!
Clued in on Jeopardy!
This Missouri S&T professor of foreign languages was once a clue on the popular TV game show Jeopardy! If you…