Samantha (Somers) and Scott Holcomb first met as they were trying to catch the last bus back to campus after the Greek Week closing games in 2011. Samantha was a member of Zeta Tau Alpha and Scott was a member of Beta Sigma Psi. Although they hit it off, it took a few weeks before they saw each other at another event and traded numbers.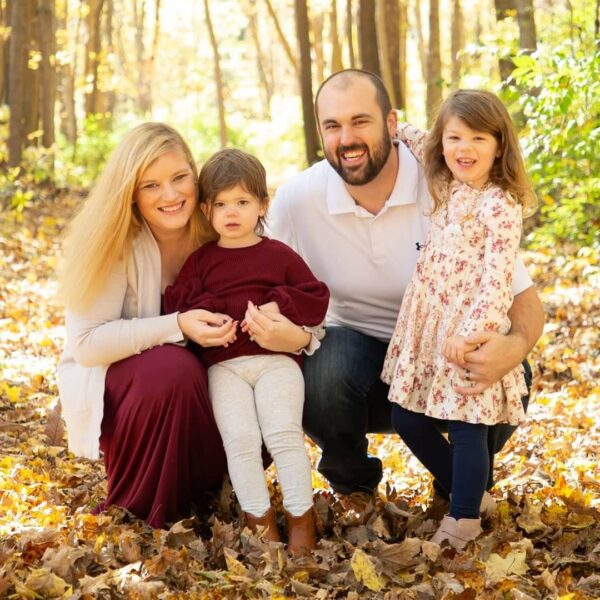 "My sorority sisters encouraged me to invite him to our winter formal, but I chickened out," she says.
Instead, Samantha would find reasons to go with a friend over to Beta Sigma Psi to work on a project or cudgel for St. Pat's. After some time passed, she finally got the courage to talk to him for a while at the Grotto in March 2012. They started dating soon after.
"During St. Pat's, literally the week we started dating, Scott was doing the cudgel carry for Beta Sig on the Havener lawn," she says. "Not only did I miss him carrying a massive tree on his back to win the cudgel carry, but as I jokingly apologized for how horrible of a girlfriend I was being, I tripped over a few wires holding up three other cudgels and almost took the whole 'forest' down with me in front of most of campus."
After Scott earned his bachelor's degree in civil engineering in December 2012, the couple would drive eight hours every other weekend to spend time with each other. The long-distance relationship continued after Samantha earned her bachelor's degree in engineering management.
"We broke ground on our dream home in March, got engaged the next week, married eight months later, and welcomed our first daughter two weeks before our first anniversary," she says. "Now, we are five years in and expecting baby number three in a couple of months. We still have regular chats with our friends from Greek life and dress in green for St. Pat's."
Today Samantha teaches science at Trico High School and Scott works as an engineer at Holcomb Foundation Engineering.
Samantha says that their Rolla history and friendships have really carried through every experience they've had.
"Rolla is something unlike anything you can explain to people who never went, experienced a Pat's, or have any clue about the dynamics of the campus," she says. "Hold onto the people and friends you meet there, they'll literally be there for you for decades to come."
Their relationship advice?
Share your story! Fill out the form below to share your fondest memory or anecdote of S&T. If you'd prefer not typing, you can also share by phone at 833-646-3715 (833-Miner150).
Hannah Ramsey-Standage and Chayne Standage
Hannah Ramsey-Standage and Chayne Standage
Hannah Ramsey-Standage and Chayne Standage met in 2014 after being cast in a Miner League Theatre Player production of "Grease"…