In the spring semester of 1979, David Sorrell was looking for an "easy A" during his senior year at Missouri S&T and enrolled in Coach Pease's swimming class as an elective. Karen (Miller) Sorrell, a sophomore at the time, was taking the same class to get the exercise. Although David already had a girlfriend, he says he couldn't help but notice the sophomore.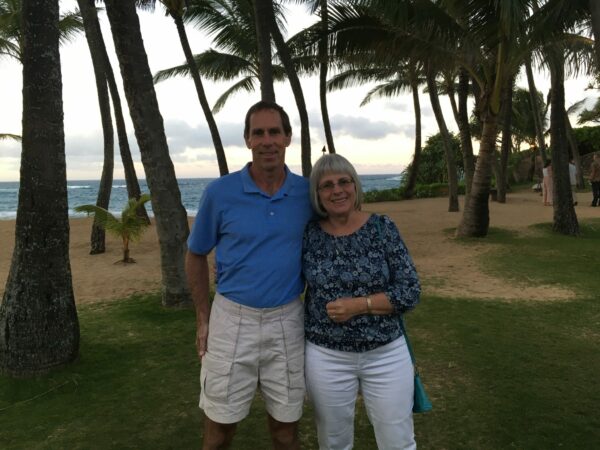 As the semester progressed, David's relationship with his girlfriend deteriorated. When the semester ended, the two split up and David began to pursue Karen.
"I was in summer school, which meant traveling most every weekend back to St. Louis to spend the weekend with her," he says. "My parents, being about 10 miles from her house, were not too pleased that I didn't spend more time during my last summer at home with them."
When Karen visited David that summer, they would visit nearby rivers to hang out or float or go to Dairy Queen.
"By the time she and I really got together, my time before graduating and leaving Rolla was short. Because of that, we don't have all that many Rolla experiences as a couple," he says.
At the end of summer, David graduated with a bachelor's degree in aerospace engineering and moved to Seattle. The two began a long-distance relationship for the next 17 months before David proposed during St. Pat's weekend in 1980. Karen graduated with a bachelor's degree in computer science that fall and they were married two weeks later.
David worked for Boeing in Seattle for 14 years before moving the family to Memphis to work at FedEx in the airplane performance engineering department. He retired in March 2017 after 21 years but currently does part-time contract work for the company.
About 15 years ago, Karen decided to follow in her mother's footsteps and pursue the degree that she always felt was her calling. Today she works as a registered nurse in the same day surgery department at St. Francis Hospital – Bartlett.
Their relationship advice?
Share your story! Fill out the form below to share your fondest memory or anecdote of S&T. If you'd prefer not typing, you can also share by phone at 833-646-3715 (833-Miner150).
Tina (Pankey) and Patrick Hammond
Tina (Pankey) and Patrick Hammond
Tina (Pankey) and Patrick Hammond met through mutual friends at a party in November 2004. The couple had their first…