After a basketball game in February 1973, John Gibson and a friend went to a party at TJ Hall where they didn't know too many people.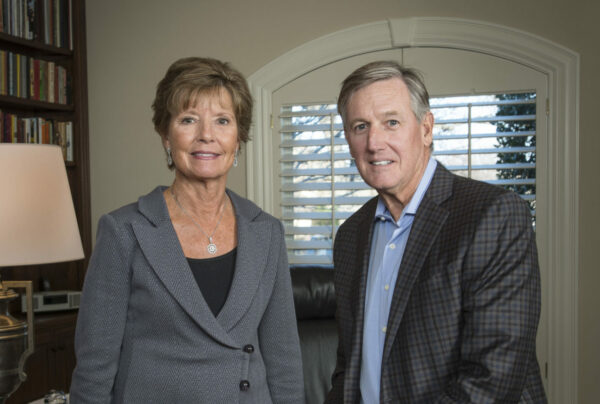 John grabbed a drink from a cooler, intending to settle into a corner of the room, but a few minutes later, he dropped the beverage, shattering the container. After cleaning it up, he grabbed another one, and within minutes, had dropped and shattered that one too.
"A good-looking girl offered to help us clean up my mess," he says. "She said 'for a basketball player you don't have very good hands!' That was Kristie, and the rest is history."
As students, the pair enjoyed grabbing a bite at Tim's Pizza, a local restaurant at the time, and ordering pizza or shrimp salads.
Both John and Kristie (Capps) earned bachelor's degrees in engineering management in 1974. The pair married in August 1974.
Kristie went on to work for Phillips Petroleum Co. as an engineer, gas buyer and division manager before retiring to raise their daughter, Katie. John spent 18 years with Phillips and was executive vice president of Koch Energy when he joined ONEOK, eventually becoming chairman, president, and CEO of ONEOK and ONEOK Partners. He retired in 2014 and now serves as non-executive chairman of the $25 billion Fortune 500 company.
When asked if they had any relationship advice, John says he would limit his advice to the male partners.
"Follow all the advice you're given; life will be much better for you," he says.
Share your story! Fill out the form below to share your fondest memory or anecdote of S&T. If you'd prefer not typing, you can also share by phone at 833-646-3715 (833-Miner150).
Jacquelyn (Stroble) and Robert Nagel
Jacquelyn (Stroble) and Robert Nagel
Jacquelyn (Stroble) and Robert Nagel met in 2005 during their first semester as graduate students. "We both took the same…